TIFF 2011: Canuck directors talk bold Quebec films and DIY spirit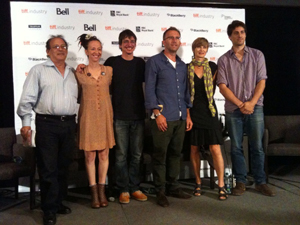 "Don't get caught up in what's Canadian and what's not – make a good film," quipped Canadian director Deepa Mehta at Telefilm Canada's Talent to Watch session on Monday afternoon, drawing applause from attendees.
"It's nice to be a Canadian who can tell the story he or she wants. We have the freedom to make the films we want to make, not because it's a compromise."
Mehta's remarks were part of the opening statements at the session Faraway So Close: New Canadian Stories at the Park Hyatt Hotel in Toronto on Monday. The session sought to explore Canadian voice in film and how it is defined by place.
Philippe Falardeau, director of the much-buzzed-about TIFF premiere, Monsieur Lazhar, echoed Mehta's sentiments, saying his answer to the oft-asked question "What is a Canadian film?" is simply, "'I don't know and I don't care. ' [It's the] same with Quebec films."
Carl Bessai, director, Sisters&Brothers, however, said he sees a distinct divide between the country's film cultures.
"With English-Canadian films, it's like we're always on the outside looking in. We're obsessed with making our films work, with famous parades of Hollywood stars, and then I watch something like Monsieur Lazhar and I want to cry!" he said, turning to Falardeau. "I have a profound jealousy for French-Canadian filmmakers who say, 'Damn all that stuff, I want to make a film that's honest.' That doesn't work as well in English-Canada."
"When I travel the world, I'm so proud of being Canadian and that our French-Canadian cinema is part of the whole – if anything, I'm totally envious," added fellow panellist Ingrid Veninger,  who helmed the just-premiered i am a good person/i am a bad person.
Canadian indie film budgets are typically modest, but Veninger is practiced in the art of doing a lot with a little, saying her filmmaking process is "completely dictated" by her resources.
With Only (2008), she had a $5,000 budget that came out of pocket and was loosely structured – particularly with the script – before she began production. "For me, it's asking people, 'do you want to come along for the ride?'"
Falardeau commented that he was inspired by Veninger's approach and while he'd love to have the courage to follow in her footsteps, he joked that "none of my scripts have been written in under two years or under 9.6 drafts."
As for Ivan Grbovic's Romeo Eleven (Romeo Onze), he commented that it wasn't so much about sadness as it was about hope.
"In filmmaking over the last 15 years, there have been many negative endings with art films and they don't have to be sad just because they're the anti-cliche of a Hollywood film."
Laurence Kardish, senior curator, department of film, The Museum of Modern Art, New York, moderated the panel. Several Canadian films were also showcased at MoMA earlier this year.
The session is a first for Telefilm, notes director of national and international business development Sheila De La Varende."There's a fire ignited at TIFF that's carried all across the country," she tells Playback Daily.