TIFF 2011: Seth Rogen aims to make more films in Canada
The Vancouver native told a TIFF press conference Sunday that he prefers Vancouver and Toronto to Albuquerque and Pittsburgh.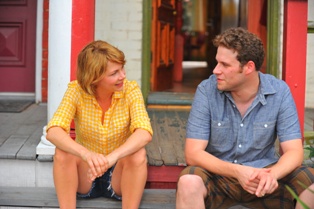 Canadian funnyman Seth Rogen says he plans to make more feature films in Canada.
"Honestly, we are very interested in making more movies in Canada. Not for the least of which is financial, [but] the fact that I'm Canadian helps a lot," Rogen told the Take This Waltz press conference Sunday at the Toronto International Film Festival.
Rogen co-stars in Sarah Polley's Take This Waltz, which was shot in Toronto, and 50/50, which was shot in Vancouver. Both films debuted at TIFF.
The Vancouver-born comedy star has made it big in Hollywood films in recent years, and in part because he prefers to stick close to home, works mostly in L.A.
"I'm just lazy and like to wake up in my own bed, so we make our movies in Los Angeles," Rogen said. "But Vancouver and Toronto are better than Albuquerque and Pittsburgh, I'll tell you that much," he added.
Of 50/50 a cancer-themed comedy by director Jonathan Levine, Rogen had only good things to say about shooting in his home province of B.C.
"That's the first film I made in Canada, and that was a good experience," he said.