ACTRA's Brian Topp in race to replace the late Jack Layton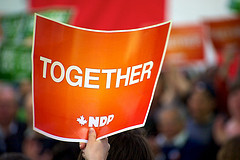 ACTRA Toronto executive director Brian Topp has thrown his hat into the ring to replace the late Jack Layton as head of the NDP.
Topp, who will be stepping down as NDP party president, made the announcement in Ottawa on Monday. The next leader of Canada's official opposition in the House of Commons will be decided March 24, 2012.
Topp is the first candidate to announce candidacy for the job.
"No one can replace Jack, but we can honour him by making sure that his dream of social justice will never die," Topp said Monday.
There's no word at press time from ACTRA on the status of Topp at the actors union while he runs for the NDP leadership.
Topp is also a member of the board of Film Ontario, Pinewood Toronto Studios, the ROI Fund, a Pinewood studio investor that also runs a labour-sponsored venture capital fund sponsored by ACTRA Toronto.