Playback 2011 Canadian Film and TV Hall of Fame: Denis Heroux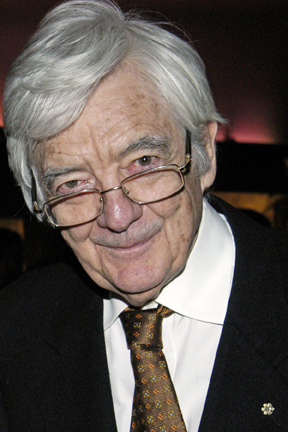 "Denis Héroux is a Renaissance filmmaker. Not only did he make culturally relevant and accessible films but he also looked at the larger marketplace and seized the opportunities that were emerging. Look at the first big Canadian coproductions, Atlantic City and Quest for Fire: he reached out beyond the borders of Quebec to produce films that would be seen around the world. I recently watched his early "maple leaf porno" hit, Valérie — it's still fun, fresh, sexy and whimsical. Héroux paved the way for the next generation of producers and entrepreneurs like myself who aren't tethered to the CBC or the NFB. Like him, we make our own films and get them out to the world." — David Paperny, founder and producer, Paperny Films

Bio: Denis Héroux is a groundbreaking producer and director, whose movies have won awards at film festivals in Cannes, Venice, Montreal and Toronto, made investors millions of dollars and garnered Oscars, Genies and Césars. He's worked successfully with Denys Arcand, author Brian Moore, French New Wave icon Claude Chabrol, Burt Lancaster, Robert Lantos, Quebec's legendary cinematographer and director Michel Brault, Donald Sutherland — and helped to discover Donald's son Kiefer and Tommy Chong's daughter Rae Dawn. A recipient of the Order of Canada, Héroux produced the viciously dark thriller Violette Noziere starring a teenaged Isabel Huppert, Louis Malle's acclaimed romantic character study Atlantic City, the "prehistoric film" Quest for Fire, the coming-of-age Depression-era drama The Bay Boy and the immensely important Quebecois family tale Les Plouffe. And if all that was not enough, Héroux along with Lantos, Stephen Roth and John Kemeny, is one of the founders of Alliance, one of Canada's leading distributors and producers for more than 25 years.

Profile: To accomplish such a storied resumé, Héroux had to be very confident as well as talented. His account of how he recruited the gifted veteran Brault to shoot Seul ou avec d'autres, the debut feature for Denys Arcand, Stéphane Venne and himself, reveals much about the man.
"I didn't know how to operate a camera," recalls Héroux. "I read in the newspaper that Michel Brault had just come back from France where he'd made Chronique d'un été with Jean Rouch. So I put a nickel in the pay phone and called him at the NFB. I said, 'I'm making a film with my partners. We'd like to you to be our DOP.' He asked if we had any expertise, and I said, 'No, but we have a scenario and we know what we want to do.' He said, 'Why me?' And I said, 'We want the best and that's what you are. It's that simple.'"
Héroux remembers, with a trace of wonderment, that the film was selected for the Cannes Film Festival.
"We were already there — among the best. But our film was made in a kind of New Wave style. I realized that we had to make cinema that was popular — that would reach the people — but always with quality. That's why my first [solo] movie, Valérie, was a film with nudity."
After his erotic follow-up L'initiation, Héroux spent the '70s producing "comedies and popular movies," developing professional relationships with foreign investors while wooing the CFDC, the precursor to Telefilm, for financial support. He produced the Jodie Foster horror film The Little Girl who Lives Down the Lane and films by Chabrol (Blood Relatives, Violette Noziere).
Teaming up with producer John Kemeny and finding the right properties made all the difference. Atlantic City proved to be a huge hit, with the film garnering Oscar nominations in all major categories, from Best Director to Best Picture.
"I forced Louis Malle to take a Canadian DOP and soundman and so on," says Héroux. "I told him, 'take it or leave it.' But Louis did insist on John Guare, who was a fabulous writer and Suzanne Baron, his regular editor. [Getting Malle to agree to casting] Burt Lancaster was difficult. We needed to raise $16 million. For tax shelter people, Lancaster was still a name, a star. Louis wanted James Mason, who couldn't raise us money — he wasn't a big enough name."
Héroux eventually persuaded Malle to accept Lancaster, and his performance earned an Oscar nomination.
Kemeny and Héroux followed that success with Les Plouffe, a feature that most Québécois assumed would be an adaptation of the famous '50s TV series that seemed out of fashion in the '80s.
"It was a fight," remembers Héroux. "The [industry] intellectuals were against it. When I asked Gilles Carle to direct, at first he refused. I said to him, 'You're a lazy man. Have you read the book?' And Carle said, 'No.' He assumed it was bad. So I told him 'Read it. That's the film we're going to make.' The next morning at 7 a.m., he called me and said. 'I've read the book. I'm doing the film.'"
Les Plouffe went on to win seven of 14 Genies it was nominated for that year, including Best Direction and Best Screenplay.
After a very successful run in the '80s, highlighted by Quest for Fire, The Bay Boy and the creation of Alliance, Héroux eventually settled down in the south of France. Then, on his 65th birthday, he received a request from the director of l'Université de Montréal asking him to come home to teach cinema.
"That was 2007," says Héroux. "I was allowed to transform the course into what I wanted it to be. We are now doing 50 sessions where we receive a writer, director and producer to talk to our 25 students. [Among the guest speakers have been Jean-Marc Vallée (Young Victoria), Yves Simoneau (Assassin's Creed: Lineage), Bernard Émond (La donation) and Sophie Deraspe (Les signes vitaux).]
"The sessions are shot on video and later shown on Canal Savoir as the series Au coeur du cinéma québécois revient. It's becoming a cult event; it's repeated four times a week. Over 1,000 broadcasts!"
Héroux pauses and then says with satisfaction: "The audience gets to see the next generation dare to take a chance and make their film, just like Arcand and Venne and I did when we were at university."
The Hall of Fame ceremony will be presented in association with the CBC on Sept. 15 at the Glenn Gould Theatre in Toronto. Inductees were chosen by a panel of jurists including: SCGC executive director Maria Topalovich, CBC's EVP of English Services Kirstine Stewart, Paperny Films' David Paperny, Park Ex Pictures founder and producer Kevin Tierney, DHX Media chair and CEO Michael Donovan, TIFF executive director and COO Michele Maheux and ACTRA's Art Hindle.