TIFF 2011: Michael Dobbin on filling your copro dance card
The Quiet Revolution Pictures' principal talks about international coproductions and seeking a European partner at the Producers Lab Toronto networking forum.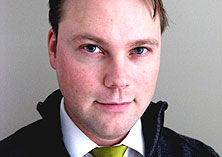 Indie producer Michael Dobbin got invited to the OMDC's feature film networking and coproduction conference Producers Lab Toronto at this week Toronto International Film Festival by being able to bring Canada and Europe together.
"I don't think it's by design that I produce with smaller European countries," admits Dobbin of Quiet Revolution Pictures ahead of the Sept. 7 to 10 networking forum.
But he has, most recently producing The Maiden Danced to Death, a Deborah Kara Ungar-starring dance drama by Hungarian director Endre Hules, structured as a Hungary/Canada/Slovenia coproduction that bowed in competition at the Montreal World Film Festival.
Dobbin said the script for Maiden came to him and he met Hules in Berlin in 2008 for a pitch.
"I remember [Hules] pitching this story, I couldn't really get it, but I read the script and [remember thinking] 'there's lots of dance,'" he recalls.
Even though Dobbin couldn't immediately visualize the drama about Hungarian dance, he was impressed with the quality of the script and pursued the project.
And eventually Dobbin was able to forge Canada's first film coproduction with Slovenia.
"It's a small country. They don't have a huge film output. But when they have a film that they participate in, they get behind it and it's a solid stepping stone to build a better film industry in Slovenia," he argues.
That experience coproducing with smaller European countries is a big part of what drew the Toronto Producers Lab organizers to Dobbin and Quiet Revolution Pictures.
A recent credit for Dobbin includes Boris Rodriguez's Eddie, structured as a Canada-Denmark coproduction and Quiet Revolution Pictures is bringing one of its latest projects to the TIFF coproduction forum, A Man of No Consequence.
The period drama is about an idealistic lawyer hired by British spy agency MI5 to take part in secret peace negotiations between Mussolini and Chamberlain in a last ditch effort to avert war in Europe.
Dobbin's challenge is to land a possible European coproduction partner at TIFF.
Before that, he expects to do a lot of speed dating and mingling at the Toronto Producers Lab.
"It's a bit of a dance. You know what people are wearing by their film slate and credits. But you want to know if they can jive. And if so, can you dance with them toe-to-toe," Dobbin says.
Photo: Michael Dobbin / Telefilm.gc.ca