TIFF 2011: Festival prizing kicks off with Emerging Filmmakers
Toronto filmmaker Jared Raab takes home $5,000 as the winner of the 2011 RBC Emerging Filmmakers competition's audience award.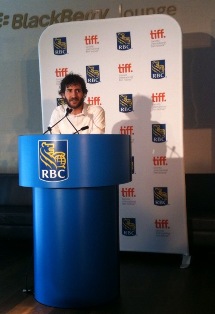 Revenge was sweet for Toronto filmmaker Jared Raab (pictured) Wednesday as he took home $5,000 as the winner of the 2011 RBC Emerging Filmmakers competition's audience award at the Toronto International Film Festival.
Raab's film, The Revenge Plot, about a teen, played by Matt Thompson, and his friends seeking revenge on a schoolyard playground, was chosen by online viewers from among 20 entries in the emerging filmmakers' competition.
"Matt is the star of the movie and we got him in the room with a bunch of young people to see magic happen," Raab said of the one-day shoot for The Revenge Plot.
And as the prize-giving at TIFF got underway, a competition jury chose Montreal filmmaker Kara Blake's Next of Kin as the national winner, which included a $15,000 cheque.
And honourable mention and a $10,000 cheque went to Montreal filmmaker Gabriel Taraboulsy for My First Movie, a hidden camera portrait of a family.
Taraboulsy took part in TIFF's Talent Lab, and also has a film directing degree from Columbia University.
"Talent Lab was a landmark opportunity to work with people with similar ambitions and challenges. It fueled the inspiration for the next year of creative work," he said after picking up the Toronto festival honour.
TIFF CEO Piers Handling said the 2011 emerging filmmakers competition is about supporting Canada's next generation of filmmakers.
"This is the first time we've been able to do this in our own building, as opposed to going off-site," Handling said Wednesday, while hosting the prize-giving.
The emerging filmmakers competition is part of Talent Lab, a four-day intensive program at TIFF for career development.
Each filmmaker receives a portable camera and $500 cash to develop a one to five minute short film for the competition.