TIFF 2011: Calm, cool Polley on waltzing the red carpet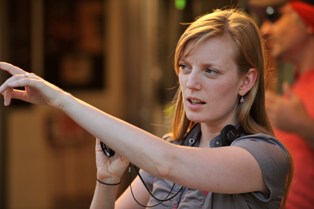 Sarah Polley insists debuting Take This Waltz at the Toronto International Film Festival on Saturday night is a natural, considering her second film was shot in Toronto and is set there.
"TIFF is the best possible launching pad for a film. For Away From Her and this film, they both have a strong sense of place. So it would have felt strange to premiere the films at any other festival besides Toronto," she tells Playback Daily, recalling a Toronto bow for 2006′s Away From Her.
And the veteran Canadian actress-turned-director is also sanguine about launching Take This Waltz in Roy Thomson Hall under a bright media glare.
"A lot of people are so freaked out by Roy Thomson Hall because it is so big. But I've had such good experiences, both seeing films there and screening films there, that I was really happy that that was the venue we would be in," she says.
The romantic drama that stars Canadian Seth Rogen (The Green Hornet)and Michelle Williams (Blue Valentine) is also likely to be warmly received by a TIFF audience which grew up on Polley's early acting days on Road to Avonlea.
"With Toronto audiences, you do get so many people who just genuinely love movies. It's a really specific kind of audience," Polley says.
"Certainly it's a warmer and friendlier audience than out in a regular cinema. But it is a little of a barometer of how people outside of the market of film are going to feel about it," she adds.
Take This Waltz will be released in Canada by Mongrel Media, and awaits a U.S. distribution deal.
But Polley is keeping her thoughts closer to TIFF and a world premiere for her second film.
"I'm trying not to have too many expectations, or get too attached to what the results might be, because I've just seen too many disappointed filmmakers in my life, who had really high expectations. You can't control what happens," she says.