eTalk rings in 10th anniversary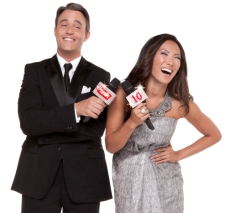 As CTV's entertainment newsmagazine show eTalk marks its 10th season, it's celebrating the milestone with a number of changes, including a revamped set design and expanded content strategy.
eTalk's ninth season was its most-watched ever, up 24% in the 18-to-49 demo over season eight and earning an average of 567,000 total viewers per episode.
And with the ninth season being the show's most successful, director of production and executive producer Morley Nirenberg has his eye toward growth.
"The 18-to-34 and 18-to-49 demos have expanded over the last few years and audiences are very loyal to the brand," he tells Playback Daily. "There's a fun aspect to our show and that's a mandate of the show."
As an entertainment brand, eTalk has branched out into audience-based live eTalks, eTalk Presents, half-hour specials, live red-carpet specials (e.g. The Juno Awards), the half-hour eTalk Ink that focuses on celebrities-turned-authors and eTalk 20, host Ben Mulroney's weekly radio show.
Nirenberg has plans for more similar specials and spinoffs going forward, as well as for expanded coverage.
"Entertainment has become so elastic and there's so much we can cover," he says. "Audiences have responded to the fact that when you get a lot of great Canadian and American stuff, we treat it equally. We've been pro-Canadian in terms of what we cover and that'll continue."
eTalk may also be sharing resources and footage with E!.
"We were very instrumental and helpful in the launch of E! last November, and there could be the possibility of extending those partnerships," he adds.
The eTalk set is also getting a makeover, having moved from its storefront Queen Street location in Toronto to the building's second floor. The new design gives the set more of a newsroom feel and also includes an intimate area for one-on-one chats that can accommodate smaller audiences.
In addition, the show's graphics package has been revamped to coincide with another change – eTalk's move to HD, also timed for the Toronto International Film Festival, which opens on Sept. 8.
Plans are also in the works to relaunch the eTalk website to show extra footage that doesn't fit into the show's half-hour format.
"It's also an opportunity for some of the hosts' personalities to come out," says Nirenberg. "We have a lot of very colourful producers working behind the scenes, as well as a Montreal and L.A. bureau, so there's an opportunity to showcase some people behind the scenes."
eTalk kicks off its new look Tuesday Sept. 6.