Loewy bullish on Canadian film market: 'We're expanding'
The Maple Pictures acquisition is the latest sign Alliance Films is feeling good about the Canadian movie distribution game.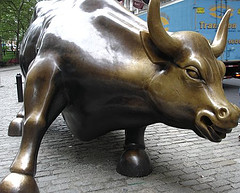 Banish all thoughts of a glut of product or a DVD slump besetting Canadian movie distribution: Victor Loewy is bullish on the Canadian market.
He has good reason for optimism.
Alliance Films has just swallowed rival Maple Pictures, and Loewy points to new economics of film distribution in Canada and different releasing patterns that point to the potential for continuing profits.
"We're expanding in Canada, by buying more films than we ever bought before," Loewy tells Playback Daily.
For starters, Alliance Films has another dozen titles coming from Lionsgate annually as part of its Maple Pictures acquisition and another movie library to mine for digital exploitation.
And a slumping U.S. economy and Hollywood's money bubble popping in 2008 has risk-averse American players pursuing fewer North American rights to titles, and concentrating on releasing their own pictures in the U.S. only.
That has left Canadian rights to more U.S. star-driven movie titles up for grabs.
"This gives us an opening to acquire films that were previously unthinkable," Loewy explains.
Examples of recent titles that landed in Alliance Films' lap include Larry Crowne, and the George Clooney-starrer The Ides of March, to be released in Canada on Oct. 7.
"The Ides of March…was put on the market for rest of the world outside U.S. because the studio that produced it decided that was a more rewarding path to take," Loewy recalls.
Also spurring his optimism about the Canadian movie market are new entrants like Netflix Canada, Apple's iTunes and Google's YouTube Movies services, each giving the Canadian indie distribution giant more outlets for its product.
And there's more digital platforms from which to promote Alliance Films movies.
"Before people would say you release a film and if it doesn't work, you throw it on home video. It doesn't work that way anymore," Loewy says.
There's a modest drop-off in Canadian DVD sales that is being offset by digital movie distribution.
"We see our business on Apple iTunes going up. So we're seeing no erosion in the home video market in this country, for the time being," he adds.
What's more, Alliance Films is continuing to hire and shift employees to service the new digital platforms, including hiring agencies to promote films on the social media and mobile phone platforms.
"On the sales side, we have people now who do nothing but service Apple iTunes, and servicing Netflix. It's a monumental shift," Loewy says.
Photo: Tom Purves / Flickr Creative Commons