Cover Me Canada announces judging panel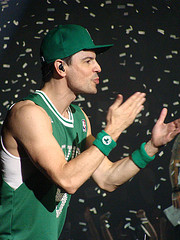 As Temple Street Productions gears up for the premiere of Cover Me Canada next month, the prodco and broadcaster CBC announced today that Jordan Knight (pictured), Deborah Cox and Ron Fair will step up to the judges' table.
The competition reality series, hosted by former All Saints singer Nicole Appleton, pits aspiring musical acts against one another singing cover songs for a $100,000 cash prize and a recording contract for their first original single from Universal Music Canada.
"Cover Me Canada is going to be a great vehicle to showcase aspiring artists and gives Canada a chance to foster and support our homegrown talent," Julie Bristow, CBC Television's executive director, studio and unscripted programming, said in a statement.
Knight is best known for being a member of boy band New Kids On The Block, R&B artist Cox has garnered numerous music awards and producer/record company exec Fair has spent 30 years in the business.
Cover Me Canada is based on a format co-created by 11 Entertainment and CBC, and will debut on the pubcaster on Sept. 18.
Photo: ElstadRanch, Flickr Creative Commons