Warthogs season two goes to camera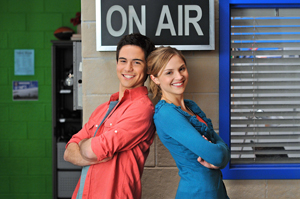 Aircraft Pictures and Dolphin Entertainment have kicked off season two production of What's Up, Warthogs! for Family Channel.
The 20 x 22-minute live-action tween sitcom revolves around student archrivals who spice up their otherwise boring high school's on-air announcements.
Dean Batali (That 70's Show, Buffy the Vampire Slayer) returns as showrunner of the new season as well as helming the writing team that includes show creators Alex Diaz and Julie Sagalowsky-Diaz, along with Brendan Duffy, Skander Halim, Barbara Haynes and Teresa Hsiao. Filmed in Toronto, Warthogs! wraps production on Oct. 28.
Season one is currently airing on Family Channel and Disney XD Canada.
Warthogs! is produced by Aircraft's Anthony Leo (Todd and the Book of Pure Evil) and executive produced by Aircraft's Andrew Rosen and Bill O'Dowd of Dolphin Entertainment (Zoey 101, Ned's Declassified).