Roller Town to open Atlantic Film Festival
Halifax comedy troupe Picnicface will have its big screen debut at the upcoming festival.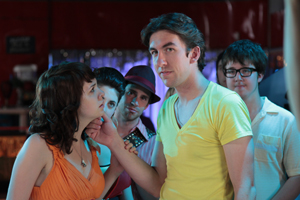 Comedy troupe Picnicface has landed the opening gala slot for the upcoming Atlantic Film Festival with Roller Town.
Directed by Andrew Bush, the slapstick parody roller skate movie filmed in Halifax, is also the troupe's big screen debut and will kick off the 10-day fest.
Roller Town joins five other gala screenings: adventure film Cloudburst (Thom Fitzgerald), love story Take This Waltz (Sarah Polley), a gala featuring nine shorts, 3D dance film Pina (Wim Wenders) and closing the fest will be Mike Clattenburg's Afghan Luke.
"This year we've programmed with a wide demographic in mind, we are accessible and hope that film and movie goers of all ages find something to love," said festival director Lia Rinaldo in a statement.
The AFF lineup will feature 189 films.
The industry portion of the overall event will include the four-day Music & Image conference for international music buyers in film, TV, marketing and new media, while the Strategic Partners copro market will focus on the U.S., Australia and South Africa.
Meanwhile, AFF's youth-targeted festival ViewFinders will also present screenings of youth- and family-targeted features and shorts.
The 31st annual Atlantic Film Festival will take place between Sept. 15 to 24. For more information, click here.