TIFF 2011: Eric Canuel's Barrymore to get festival debut
The Quebec director will premiere his stage-to-sceen adaptation of Barrymore in tandem with the movie's solo star, Christopher Plummer.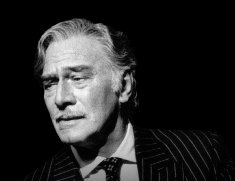 The Toronto International Film Festival is giving Christopher Plummer's Tony Award-winning stage play Barrymore a big screen bow.
Quebec director Erik Canuel (Bon Cop, Bad Cop, Bloodletting & Miraculous Cures) last March captured footage of a special Toronto performance of Barrymore that used multiple high-definition cameras.
Genie award-winning Canuel's finished film, to screen this fall on HBO Canada, Movie Central and The Movie Network, will debut at TIFF as part of the festival's Mavericks sidebar, followed by an in-conversation session with Plummer.
Toronto programmers on Tuesday also announced as part of the Mavericks sidebar a world premiere for Neil Young Life, the third installment of Oscar-winning director Jonathan Demme's trilogy of Neil Young concert films.
The latest concert movie was shot last May at Massey Hall in Toronto during Young's Le Noise solo tour.
There's also an in-conversation session with Canadian director Deepa Mehta and British novelist Salman Rushdie, who both collaborated on the novel-to-screen adaptation Midnight's Children.
Mehta shot the film this summer in Sri Lanka, and will introduced selected clips at TIFF.
TIFF's 36th edition also unveiled its free programming Tuesday, to include the world premiere of Mark Cousins' epic 15-hour documentary The Story of Film: An Odyssey, to screen over two days; and Jafar Panahi and Mojtaba Mirtahmasb's This is Not a Film – a day-in-the-life portrait of filmmaker Jafar Panahi, who is under house arrest in Iran.
Highlights of TIFF's Masters program include French director Chantal Akerman's La Folie Almayer, Le Gamin au vélo, by award-winning Belgium directors Jean-Pierre Dardenne and Luc Dardenne, and Finnish director Aki Kaurismäki's Le Havre, which will screen at the Elgin Theatre on Sept. 8, the festival's opening night.
Also Toronto-bound is Russian director Alexander Sokurov's Faust, inspired by Goethe's classic poem, and French director Bruno Dumont's Hors Satan.
World bows booked into the Discovery program include Swedish director Axel Petersen's Avalon, Malaysian filmmaker Dain Said's Bunohan, U.S. director Ryan O'Nan's The Brooklyn Brothers Beat the Rest, Sebastian Brahm's Roman's Circuit, and Lost in Paradise, by Vietnamese director Ngoc Dang Vu.
There's also a slew of North American premieres in TIFF's Discovery program, including the the Camera D'Or winner Las Acacias, by Pablo Giorgelli; Dutch director Marco van Geffen's Among Us; Chinese director Haofeng Xu's The Sword Identity; and The Other Side of Sleep, a first feature from British director Rebecca Daly that bowed in Cannes.
The Toronto International Film Festival is set to run from Sept. 8 to 18.