CBC celebrates 75 years
The broadcaster is kicking off 75 days of cross-platform programming this Sunday.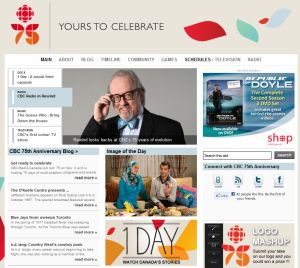 Canada's public broadcaster is celebrating its 75th birthday this November and kicking off the birthday programming exactly 75 days before the milestone with the airing of the documentary 1 Day this Sunday at 8 p.m.
The two-hour documentary is the biggest co-production in the broadcaster's history, and features a day in the life of Canadians from coast to coast who sent in video, or were filmed by camera crews on Apr. 30.
Kirstine Stewart, executive VP, English services, CBC says the broadcaster's 75 days of programming is a birthday gift to Canadians who have stayed with the network from the start.
"What has changed the most in 75 years for the CBC is the variety of what you can get now," she says. "The fact that 75 years ago it started as creaky sounds over radio waves and now people are listening to the radio while they are on the computer with the TV on in the background."
The CBC will be rolling out additional celebratory programming in the weeks to come, including retrospectives on CBC News and Long Story Short: CBC Turns 75, hosted by comedian Martin Short on Sunday Sept. 4 at 8 p.m. The CBC is also celebrating online, with visitors to the ceeb's Facebook page and designated birthday website, Cbc.ca/75, being encouraged to submit their favourite moments and play games like putting their head on Don Cherry's body.