Canadian soft money: a haven for foreign producers eyeing copros?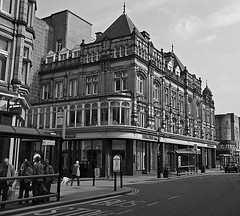 Strategic Partners, the international coproduction conference staged midway through the Atlantic Film Festival, has foreign producers, distributors, broadcasters and agents apparently flocking to cosy up to Canadians and their production incentives.
"The soft money is something that doesn't exist around the world in many places. In Canada, soft money and tax credits is secure and so is really attractive," Strategic Partners director Jan Miller told Playback Daily.
The three-day Sept. 15 to 18 gathering in Halifax will put the focus this year on American, European and South Africans looking to partner with Canadian producers.
And that suits a host of Canadian film producers in Halifax, some of whom who are looking to complete financing on upcoming projects with little more than Canadian tax credits and government development coin so far in their bank accounts.
The Canadian film projects to be pitched at Strategic Partners include Deadlocked, from Rob Heydon and Ecstasy Pictures. The $10 million dramatic feature, starring Helen Mirren, already has foreign money from BBC Films and Lionsgate UK, and is structured as a Canada-UK coproduction.
In Halifax, the film's producers will be looking for extra financing from the U.S. and the Middle East.
And indie producer A71 Productions is bringing the $2.7 million Canadian theatrical comedy Born Into This to Halifax, with 40% of its budget in place after securing development coin from Telefilm Canada, the OMDC and the Harold Greenberg Fund, on top of Canadian tax credits.
But there's more than soft money as a lure to foreign producers headed to Strategic Partners.
Miller said panels will be held this year on brand integration in movies, and the return of private equity financing, moderated by Christine Haebler of Screen Siren Pictures.
Strategic Partners programmers were hard-pressed to find examples of product placement in indie films to help fill out a budget, but branding is on the lips of cash-hungry producers these days, so it's time to tackle the issue.
"Everyone we've talked to says that's a natural path," Miller said of brand integration in indie films.
"There's going to be more collaboration between the creative and the financial," she added.
Keynote speakers at Strategic Partners next month include indie producer Christina Piovesan (Whistleblower, Amreeka), and Michel Reilhac, executive director of France cinema and head of acquisitions at Arte.
Photo: Halifax / Tim Green, Flickr Creative Commons