Falardeau's Monsieur Lazhar grabs two Locarno prizes
The Quebec director's triumph comes ahead of a Canadian premiere for the French-language drama at TIFF.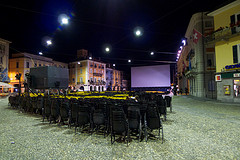 Canadian director Philippe Falardeau on the weekend came away with two awards from the Locarno Film Festival for his latest movie, Monsieur Lazhar.
The director's stage-to-screen adaptation of Bachir Lazhar, by playwright Evelyne de la Chenelière, earned the audience award Prix Du Public UBS, and the Variety Piazza Grande Award, voted on by film critics.
The prizes speak well to the commercial prospects for Monsieur Lazhar, which will have its Canadian premiere at the upcoming Toronto International Film Festival. Quebec-based Falardeau has produced a string of critically-acclaimed pictures like La moitie gauche du frigo, Congorama and C'est pas moi je le jure! that failed to generate much of a ripple in the English Canadian market beyond the art house circuit.
That optimism is also underpinned by Monsieur Lazhar coming from indie producer Micro_scope Inc., which also produced Denis Villeneuve's Incendies, another French language stage-to-screen adaptation that has performed well in English-speaking markets beyond Quebec.
Monsieur Lazhar stars Sophie Nelisse, Emilien Neron, and Danielle Proulx and Émilien Néron and is set in a Montreal elementary school.
Photo: Locarno Film Festival 2010 / iMaffo, Flickr Creative Commons