Toronto unveils gala slot for Ken Scott's Starbuck
The latest movies by Clattenburg, Vallee, Lieberman, Pool, McDonald and Bessai will unspool next month at TIFF as part of its Canadian film lineup.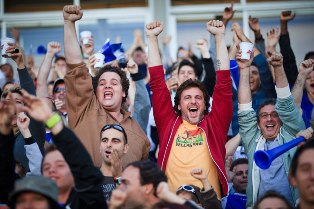 The Toronto International Film Festival unveiled its Canadian film lineup Tuesday, which appears evenly split between French- and English-language movies.
Toronto will give red carpet treatment to Quebec director Ken Scott's Starbuck, a comedy that features Patrick Huard in the role of a 42-year-old man who decides to finally take control of his life when he discovers he is the biological father of 533 children after donating his sperm for pocket money.
Other high-profile Canadian pics at TIFF include a Special Presentations slot for Mike Clattenburg's Afghan Luke, which portrays a journalist, played by Nick Stahl, returning to Afghanistan to uncover the truth about whether or not Canadian snipers were mutilating corpses in the war zone.
Also unspooling in the Special Presentations section is Robert Lieberman's Breakaway, the Indo-Canadian hockey drama that stars Russell Peters, Rob Lowe, Akshay Kumar and Vinay Virmani; Jean-Marc Vallee's Café' de Flore, a French-language love story starring Vanessa Paradis and Edwin Boyd, Nathan Morlando's true-life drama about the infamous Toronto bank robber that stars Scott Speedman, Kevin Durand and Brian Cox.
Rounding out the section is a world premiere for Mike Dowse's Goon, another hockey comedy shot in Winnipeg, adapted for the screen by Jay Baruchel and Evan Goldberg and starring Seann William Scott, Baruchel, Liev Schreiber and Alison Pill, and a world premiere for Guy Maddin's Keyhole, which stars Jason Patric and Isabella Rossellini.
And there's North American premieres for Phillipe Falardeau's Monseiur Lazhar, which stars Danielle Proulx and Brigitte Poupart, and Mary Harron's The Moth Diaries, an Irish-Canadian coproduction top-lined by Lily Cole, Sarah Gadon and Sarah Bolger.
The Contemporary World Cinema sidebar features Randall Cole's 388 Arletta Avenue, starring Nick Stahl and Mia Kirshner; Barbara Willis-Sweete's Billy Bishop Goes To War, a First World War drama starring Eric Peterson and John Gray based on the long-running stage play; Carl Bessai's Sisters & Brothers and the Rossif Sutherland-starrer I'm Yours, directed by Leonard Farlinger.
Toronto also gave a Masters slot to Bruce McDonald's Hard Core Logo II, which bowed at the Whistler Film Festival, while Lea Pool's Pink Ribbons, Inc. and Surviving Progress, by directors Mathieu Roy and Harold Crooks, both got booked into the Real to Reel documentary program.
Elsewhere, Guy Edoin's Marecages will open Canada First!, a festival sidebar devoted to first features by Canadian directors.
Edoin's family drama is set in the Eastern Townships and stars Pascale Bussières, Luc Picard, François Papineau and Gabriel Maillé.
Also booked into the Canadian feature sidebar is Yonah Lewis and Calvin Thomas' Amy George; Leave It On The Floor by Sheldon Larry, about a young African American thrown out by his narcissistic mother for being gay and Nuit #1, Anne Emond's love story that stars Catherine De Léan and Dimitri Storoge.
The Canada First! section also includes Simon Davidson's The Odds; The Patron Saints by Brian M. Cassidy and Melanie Shatzky and Roméo Onze, director Ivan Grbovic's portrait of a shy young man looking for love in all the wrong places.
The Toronto festival also unveiled 43 local short films for its Short Cuts Canada program, including Janine Fung's 4am, Ian Hamarine's Doubles with Slight Pepper, Nicholas Pye's The Encounter, and Issues, by actor-turned-director Enrico Colantoni and starring Flashpoint co-lead Hugh Dillon.
Other Toronto-bound shorts include Kyle Sanderson's Lie Down and Die, Mark Slutsky's Sorry, Rabbi, which stars Jacob Tierney, and Christian Sparkes' A River In The Woods.
The Toronto International Film Festival will make more lineup announcements in the coming weeks ahead of its upcoming Sept. 8 to 18 run.