Smiley Guy lands development deal at JFL
The Toronto studio earned the prize for its web series pitch at the Montreal-based comedy conference.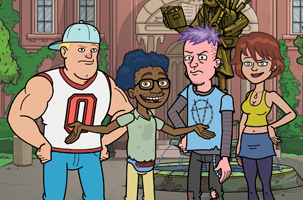 Smiley Guy Studios has earned a development deal with U.S. studio and distributor My Damn Channel at the Just For Laughs Comedy Conference in Montreal.
The Toronto studio won over a panel of four judges at the Pitch Till Your Sides Split multi-platform web series pitch session with its interactive animated comedy View U.
Pitched by Smiley Guy's executive producer Jonas Diamond, the series focuses on four college friends who do just about everything to land 10 million clicks of fame.
"We felt View U had the interactivity and the best ideas designed to capture audience and develop a successful series with My Damn Channel," said Rob Barnett of My Damn Channel.
Judges included Ben Relles (head of creative development, YouTube Next Lab), Spencer Griffin (executive producer, College Humor) and Eric Mortensen (senior director of network programming, Blip.tv).
The three-day comedy conference wrapped this past weekend.