Strong Canadian field at Montreal World Film Festival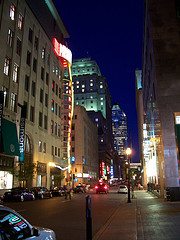 Andre Forcier's Coteau Rouge, which stars Roy Dupuis, is to open the Montreal World Film Festival, organizers said Tuesday.
The Quebec film, which also stars Céline Bonnier and Gaston Lepage, offers an offbeat fable about a body disposer for the mob, a shady property developer, an ex-boxer and a grandmother who becomes a surrogate mother.
And also screening in competition in Montreal is Quebec director Demian Fuica's La Run, which portrays a Quebec family dealing with the gentrification of their town.
La Run will be the only Canadian feature film contender in Montreal's juried competition, which includes entries from 19 other features and 11 shorts from 19 countries.
Canadian short films entered in competition include Jean-Patrick Joseph's Thanksgiving Dinner, Velislav Kazakov's Overcast and George Schwizgebel's Romance, a Canada/Switzerland coproduction.
The Montreal festival, which tends to focus on world cinema and will feature 383 films from around 70 countries during its Aug. 18 to 28 run, has no Canadian film sidebar this year.
Homegrown films will instead be folded into the main festival sidebars, except for the Canadian Student Film Festival competition of shorts.
Elsewhere, the First Films World Competition will include the Canadian entry The Maiden Danced to Death, a Hungary/Canada/Slovenia coproduction by director Endre Hules.
And the Focus on World Cinema showcase will include Peter Bishai's A Million Colors, a Canada-South Africa coproduction, Charles Wahl's Webdultery, Nicholas Kinsey's Killing Ruth – The Snuff Dialogues, Josh Koffman's Dead Dreams, and Happy Slapping by Canadian director Christos Sourligas.
The Focus on World Cinema's short film section will also feature Canadian entries like Chris Remerowski's Life on the River, Farzin Farzaneh's Drat, Emilie Gaudet's Between the Lines, and Danny Lynch's The Washing Machine.
Montreal also booked a solid lineup of Canadian documentaries, Blinding, by Steve Sanguedolce, Aaron Yeger's A People Uncounted, Les Pales Du Mal – Parcours Citoyen by directors Jean and Serge Gagné, Jay Bajaj's We Ain't Rich Or Famous But We Are Happy Pals, and Behind The Camera by Bob Mckenna.