Eric Peterson set to star in new crowd-funded Loeffler short
Filmmaker Maurey Loeffler pledges not to process any Kickstarter donations if his goal of raising $30,000 in 40 days is not met.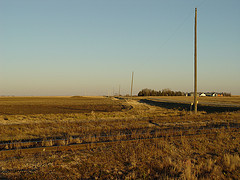 Writer-director Maurey Loeffler has landed Corner Gas regular Eric Peterson to star in his latest short film, Washed in the Blood.
The western-style indie, set in 60s-era Saskatchewan, follows the story of an 80-year-old man who finally avenges the long-ago rape and murder of his Metis wife after their only child dies of cancer at age 55.  The shoot is taking place in and around Leroy, SK, starting in September.
Toronto's Adrianna Crifo is producer on the short, alongside executive producer Matt Handy of L.A.-based Creekview Films. Casting for the short film is still underway.
Loeffler is seeking partial funding for Washed in the Blood via crowd-sourced funding site Kickstarter, with the caveat that if he does not reach the goal of raising $30,000 in a 40-day funding drive, none of the pledges for the short film will be processed. The funding drive started July 15 and runs to Aug. 22.
Loeffler's last short film Pooka, which in stark contrast to the revenge-filled Washed in the Blood, was a drama about teen life in suburbia. It won a Golden Sheaf for Best Drama at the 2011 Yorkton Film Festival.
Photo: Saskatchewan prairie / Wat Suandok, Flickr Creative Commons