TIFF to open with Guggenheim's U2 doc
Cronenberg's A Dangerous Method and Polley's Take This Waltz set for gala premieres.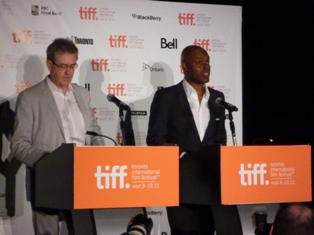 The Toronto International Film Festival is kicking off its 36th year with a documentary for the first time in its history.
The announcement of U2 doc From The Sky Down from director Davis Guggenheim (Waiting for Superman, An Inconvenient Truth) drew gasps of surprise and delight from the press conference on Tuesday morning.
"It became clear that an inspiring account of artists honing their craft is a great way to kick off artists stories and voices," said TIFF co-director Cameron Bailey of the film's section. ""It really speaks to the importance of the documentary forum."
Bailey, along with TIFF director and CEO Piers Handling, announced half of the films in galas, with David Cronenberg's A Dangerous Method and Sarah Polley's Take This Waltz representing Canada in the selection.
Those films are joined by Albert Nobbs (Rodrigo Garcia, Ireland), Butter (Jim Field Smith, U.S.), A Happy Event (Remi Bezancon, France), The Ides of March (George Clooney, U.S.), The Lady (Luc Besson, France/U.K.), Moneyball (Bennett Miller, U.S.) Peace, Love & Misunderstanding (Bruce Beresford, U.S.) and W.E. (Madonna, U.K.).
Handling also noted that this year marks the 10th anniversary of 9/11. "Over the past few months we've been discussing how to mark this appropriately," he addressed, noting that TIFF has commissioned a short film to "honour the community touched by this event," with more details to be revealed closer to the fest.
In addition to the galas, Bailey and Handling announced 43 special presentations from across the globe, including  11 Flowers (Wang Xiaoshuai, China/France), 50/50 (Jonathan Levine, U.S.), Anonymous (Roland Emmerich, Germany), The Descendants (Alexander Payne, U.S), Elles (Malgorzata Szumowska, France/Poland/Germany), Pearl Jam Twenty (Cameron Crowe, U.S.), Woman in the Fifth (Pawel Pawlikowski, France/Poland/U.K.) and Twixt (Francis Ford Coppola, U.S.)
The remaining galas and special presentations will be announced in the coming weeks.
TIFF runs from Sept. 8 to 18.
Photo: TIFF director and CEO Piers Handling (left), TIFF co-director Cameron Bailey (right)