iThentic adds 26 new web series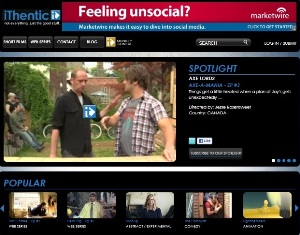 Toronto-based online and mobile video destination iThentic.com has announced it is expanding its short-form video content to include web series.
The site will complement its existing library of short films – just short of 5,000 – with the premiere of 26 new web series, 10 of which are Canadian, including Axe Lords, The Re-Inventors and iThentic originals Green Minute, Guidestones, Office Pranks, The Dirt on Green, The World of Bruce McCall and Today on Earth.
The series will be available all at once instead of via a time-release model, so viewers can watch the series at their own pace.
"We were finding that online audiences really wanted an experience similar to TV – you get to know characters, see more, and fall in love with them," iThentic VP of content and production Lisa Baylin tells Playback Daily. "And that's what web series do – just in a shorter time frame."
Baylin notes that several of the series that are part of this launch are comedies, which she describes as "coffee break content.
"Dramas can give you a different, richer experience, but comedies are great for coming in and getting a laugh and going back to what you're doing."
Some of the site's content has been re-purposed from network use, including Sex + Religion from Toronto's Riddle Films, which originally aired as a 13-part series on Vision TV, has been repurposed for the web into 40 online eps.
The site has also been upgraded with new features such Commentary, which Baylin says was created to foster community between filmmakers and audiences, and will include articles from animators, producers, filmmakers and industry critics.
iThentic is also introducing the monthly Golden Play Contest, in which iThentic users can vote on each other's work with prizes that will range from cash to industry or mentorship sessions. The Spotlight feature will be displayed on the home page and via an e-newsletter, letting users see what's new on the site, including Golden Play winners.
Baylin says that iThentic is always seeking new submissions and is already talking to some producers on possible development for second seasons of their web series.
"For me, it has to have great writing, acting and production values," she says, noting that comedies are plenty and even though dramas are in shorter supply, they tend to fall into the sci-fi and horror realms.
"I'd love to find dramedy series that don't necessarily rely on sci-fi and horror," she states. "I'd also love to see equivalent of TV series like hospital dramas and cop dramas. I've also been searching for lawyer dramas, they're really excellent for the web and I think it could do quite well."