Tsi Tkahehtayen wins A&E Short Filmmakers Award
The Mohawk-language short takes the prize at the NSI Online Short Film Fest.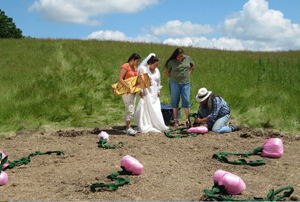 A Mohawk-language short has snagged the $2,500 A&E Short Filmmakers Award at the NSI Online Short Film Festival.
Tsi Tkahehtayen (The Garden), written and directed by Zoe Hopkins and produced by Laura Milliken, follows a trio of women who go to a mystical gardener for help to fulfill their desires.
Jury members praised the short for its "gentle humour and deconstruction of clichéd Aboriginal solemnity" and "beautiful art direction and a subtle, delicate script."
Hopkins, whose shorts have screened at the Sundance Film Festival and the Worldwide Short Film Festival, is in the midst of directing short film projects for the Knowledge Network and the NFB. Her feature script Cherry Blossoms is currently in development with a Vancouver prodco.