TSN wins Rugby World Cup rights scrum
The sports network wins its bid for exclusive Canadian rights to the 2011 and 2015 Rugby World Cups.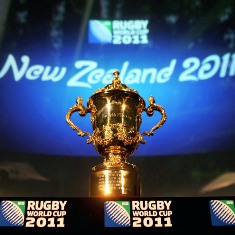 Following the close of negotiations with Rugby World Cup Limited, TSN has acquired exclusive Canadian multiplatform rights to the 2011 and 2015 Rugby World Cups.
The deal also includes French-language rights for RDS.
Previously, Setanta Sports network held Rugby World Cup Canadian broadcast rights.
The Rugby World Cup takes place in New Zealand this year, and will air on TSN and TSN2 from Sept. 9 to Oct. 23.
The network plans to live-broadcast all matches featuring Canada's rugby team, and all quarter-final, semi-final and final matches over TSN, TSN2 and TSN Mobile TV, TSN's TV app available on Bell smartphones and tablets.
The deal marks the first time that TSN has broadcast World Cup rugby since 1995.
Earlier this year, TSN also picked up Major League Soccer (MLS) rights for Toronto FC and Vancouver Whitecaps games, as well as UEFA EURO  2012 and 2016 tournament multiplatform rights.