CBC to air Proper's Redemption Inc.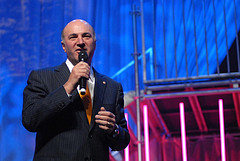 Dragons' Den judge Kevin O'Leary is giving ex-cons a second chance with Redemption Inc., from Proper Television.
The eight-part series for the CBC, based on a British format, will see host O'Leary give ex-offenders tough love, and $100,000 of his own cash, to launch businesses under his guidance.
Proper Television is currently shooting the one-hour reality series in Toronto until September, ahead of a winter 2012 bow on the public broadcaster.
Redemption Inc. echoes the earlier Citytv reality series  Conviction Kitchen, a Cineflex Media reality show that featured Toronto chef Marc Thuet. The show's format challenged a staff of ex-convicts to launch a high-end restaurant in Toronto in just eight weeks, under the threat of closure should the debut not be a success.
Redemption Inc. is based on the original format from Britain's Wide-Eyed Entertainment.
The Canadian version is executive produced by Cathie James, with Dean Palmer producing.
Wayne Moss and Michelle Metivier are directing Redemption Inc.
Photo: Kevin O'Leary (Ontario Chamber of Commerce, Flickr Creative Commons)