Lionsgate to produce new Charlie Sheen sitcom
The former Two and a Half Men lead is to star in Anger Management from Lionsgate Television and Debmar-Mercury.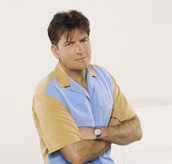 Charlie Sheen has jumped into business with Canadian indie producer Lionsgate Entertainment on his next U.S. network sitcom after his high-profile departure from Two and a Half Men.
The Lionsgate Television division is to produce Anger Management, which stars Sheen in a comedy about a mild-mannered man ordered to anger management classes, which are conducted by a therapist that could probably use anger management lessons himself.
The sitcom is inspired by the Revolution Studios' 2003 feature comedy of the same name.
"We always look for series ideas that are noisy, accessible and relevant," Lionsgate Television topper Kevin Beggs said in a statement.
"Charlie Sheen in Anger Management takes those criteria to a whole new level and we are thrilled to be in business with him, Evolution, Debmar-Mercury and Revolution Studios on this once-in-a-lifetime opportunity," he added.
For his part, Sheen in his own statement welcomed being reunited with Joe Roth and Revolution Studios after previously collaborating on features like Major League, Young Guns and Three Musketeers.
"I chose Anger Management because, while it might be a big stretch for me to play a guy with serious anger management issues, I think it is a great concept," Sheen, who will hold an equity stake in the sitcom, said.
"It also provides me with real ownership in the series, a certain amount of creative control and the chance to be back in business with one of my favourite movie producers of all time, Joe Roth."
Debmar-Mercury, a division of Vancouver-based Lionsgate, will distribute the series worldwide.