Centennial College to hone industry biz training
Instructor and doc filmmaker Karen O'Donnell tells Playback how she sees a greater role for industry biz training at Centennial.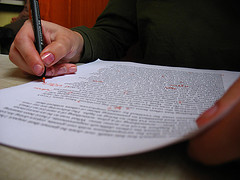 Business skills for independent producers are lacking, says Centennial College instructor and doc filmmaker Karen O'Donnell, and she's looking to fix that problem for future students.
O'Donnell has launched a survey, with support from the college, OMDC and the City of Toronto, to determine the demand for business formation training and support in the screen-based content industry.
The survey has been in the works for about a year and O'Donnell is organizing focus groups with the Documentary Organization of Canada's Toronto chapter. She'll then take the survey results and conduct interviews with senior-levels execs at prodcos, broadcasters and distribution companies to determine business needs for the industry.
As creator of the Independent Television Producers program at the Toronto college, she noticed that applicants' business knowledge needed fine-tuning.
"There's a lot of help out there on creative content production, but from my experience, the real need is on the business [side]," O'Donnell tells Playback Daily.
"Many [indie producers] don't want to hone the [business] skills, they want someone else to do that part of the job," she adds. "But the producer is the boss and if you want to be the controller of your company, you have to be the boss. So you must learn the business side."
Since the existing producers program at Centennial is only open to individuals starting up their own companies – and are required to be on Employment Insurance benefits to apply – O'Donnell also wants to create a program open to companies that have already found their footing, but need help to grow and develop their operations.
The ultimate goal, says O'Donnell, is to create a physical space to house both the existing and the new program, to be taught by industry professionals.
"If we get enough participation right now, the college is prepared to move on this immediately," says O'Donnell. "One side [of the incubator] will have opportunities for blending of talents by bringing in-house with interactive producers and getting them to understand how to work with each other, and the other side will be the business skills training."
The survey can be accessed here.