Mighty Ships, Planes take off worldwide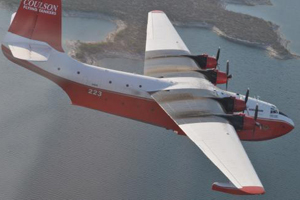 It's the people stories woven into Mighty Ships that gives the series its sales strength, says Tony Leadman, head of worldwide distribution for Toronto-based Exploration Productions Inc.
The prodco has nailed down the format so well that the series' forthcoming spinoff, Mighty Planes, has already been pre-sold to the 80-plus territories already airing Ships. 
"Broadcasters are telling me that the people stories on Ships are really attractive for the audience and make [the show] more than just a tech story," EPI's head of worldwide distribution Tony Leadman tells Playback Daily.
"[Guys] like the tech and ocean-going vessels and for the family, there are stories of the people who run them and their missions."
Australia's Seven Network has committed to all future seasons, after seeing a ratings record this past April in which more than 1.3 million Aussies were reported to have watched Ships. All major markets have already picked up the series, excluding Latin America and Germany, with a deal pending for the latter country.
EPI has licensed 20 eps of the series to CBC for its documentary channel and in addition to a box set of all Ships seasons, and the Bell Media-owned Access Media Group in Edmonton is also in the process of striking a distribution deal into Canadian schools.
Now season five is ready to set sail on July 20 on Discovery Channel Canada, and the EPI team is already in pre-production on a sixth season, in addition to filming Mighty Planes.
The delivery date for Planes is still to be nailed down, but Leadman is aiming for a January or February 2012 air date, and the series follows the same formula as Ships – minus the nautical angle, of course.
Initially, EPI was looking to shoot eight eps for the first season of Planes, but that was scaled back to six.
"Access [to planes] is a little tougher than the ships," Leadman admits. "Some of the planes, like Boeing's 787 Dreamliner, aren't even flying yet. You can have your wish list of planes, but some aren't even available yet."
Discovery Enterprises has also snapped up the rights to distribute Ships to airlines via in-flight entertainment, with deals to soon be formalized.