travel + escape gets Unplugged
Glassbox's Marcia Martin talks about picking up HLP + Partners' Operation Unplugged, and how Parks Canada got involved.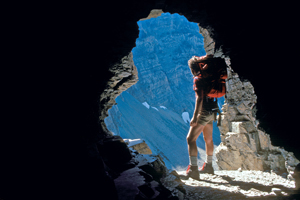 This summer, as eight Canadians are unleashed in national parks across Canada to survive gadget-less and on their wits alone, HLP + Partners camera crews will be tagging along behind in a unique new production for Glassbox TV's travel + escape channel called Operation Unplugged.
The mediaco was looking for splashy travel-oriented projects for its fall schedule, which will mark the official relaunch of the channel as a Glassbox property. The mediaco acquired the channel from CTV last fall.
So when HLP + Partners – along with former Global TV news anchor Kevin Newman – approached them with the OU concept, the Glassbox team was all ears, explains programming exec Marcia Martin.
The series combines Canadian travel and a unique sponsorship opportunity from Parks Canada, conceived by Newman to help celebrate the organization's centennial celebrations this year. Both fit the channel's programming mandate, but for Martin, "the clincher" for her was host Alan Bishop, who's served as challenge producer on The Amazing Race and Survivor.
"He's got a great on-camera personality, and I was looking for really strong characters on air who are compelling and engaging and who can really sell it," she says.
Bishop will lead eight tech-obsessed Canucks in the six-ep series that sees them facing adventure and challenges without their beloved devices to guide them. The series will be shot in National Parks and National Historic Sites across the country, made possible with the participation of series sponsor Parks Canada.
"[Parks Canada was] looking for more visibility and more exposure for its historical sites. What better way to do it through TV?" says Martin of organization's involvement, which was spearheaded by Newman. "It allowed us to put a little more back into the production through a license fee."
Newman is credited as an executive producer for Unplugged, along with Henry Less.
HLP president Lee Herberman, also executive producer, says HLP thought the show was a good fit at Glassbox because of the company's then-recent acquisition of travel + escape.
"They had an initiative to relaunch the channel in a big way, and they really embraced the show as a marquee title," Herberman tells Playback Daily.
The cameras start rolling on the series from on Aug. 1 for four and a half weeks.
Unplugged also recently received coin from the Bell Broadcast and New Media Fund, and Toronto-based Smiley Guy Studios is on board to develop the interactive component to the series. It'll include a website and social media initiative to help raise awareness of the country's National Parks and Historic Sites.
The series is slated to air in early 2012.
–
Image: ©Parks Canada