Levy, Macartney-Filgate named to Order of Canada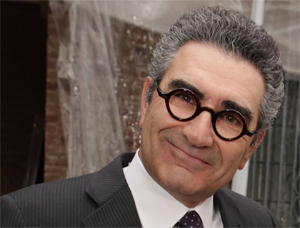 Just before Canada Day, comedian Eugene Levy and cinematographer Terence Macartney-Filgate received the Order of Canada, announced by Governor General of Canada David Johnston on Thursday.
Macartney-Filgate was one of 12 named an officer of the Order of Canada "for his contributions as a cinematographer whose groundbreaking documentaries have been recognized in Canada and internationally," a statement on the appointment said.
The veteran filmmaker's career spans more than 50 years, with his most recent credit as director of the TV documentary Raising Valhalla (2007), as well as directing the three-parter Canada Remembers (1995), The Magical Eye (1989) and the six-part shorts Lewis Mumford on the City (1963), among others.
Meanwhile, "for his contributions as a comic actor and writer, and for his dedication to charitable causes," funnyman Levy is one of 42 new appointed members of the Order of Canada. Levy, best known for his time on SCTV, also appeared in Best in Show (2000) as well as writing Waiting for Guffman (1996). He is also attached to Michael Dowse's hockey comedy Goon, slated for release this year.
Appointments were made via recommendations of the Advisory Council for the Order of Canada.