Electric Playground gets weekly syndication in U.S.
PPI Releasing talks to Playback Daily about bringing the Greedy Productions series to 75% of U.S. households this fall.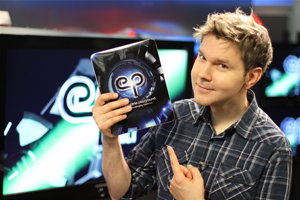 Entertainment news show The Electric Playground from Vancouver's Greedy Productions will be beaming into 75% of American homes on a weekly basis, as Venice, California-based distributor PPI Releasing strikes deals with a raft of U.S. stations.
The news magazine-style show features worldwide coverage of popular culture, ranging from movies and TV to games, comics and devices and more.
PPI principal Josh Raphaelson calls the show "the Entertainment Tonight of tomorrow," noting that demographics for shows like ET and Access Hollywood are aging.
"The type of talent they profile is really geared toward an older female audience," he tells Playback Daily. "This show has more of a much younger male audience that's interested in new media, video games and gadgets and we felt it filled a need in our marketplace, in the U.S. and in other markets around the world."
EP airs Monday to Friday on home turf, and PPI had packaged the series as quarterly one-hour programs called The Electric Playground Buying Guide for State-side stations to air around gift-giving seasons, upping the advertiser appeal.
That brought the show to ABC-owned TV stations across the U.S., along with stations from the Hearst, Hubbard, McGraw-Hill, Newport and Scripps groups, as well as on Australia's Sci Fi Channel last December.
"What we found was that the ABC-owned stations had a need for the programming specials where they could get advertisers in – particularly around holidays like Christmas – when advertisers could get in and reach audiences with the latest tech products," explains Raphaelson.
From there, he says it wasn't hard to convince them to pick up the weekly broadcast, as the majority of the stations were already airing the quarterly specials.
"In general, once U.S. stations have added a show and promoted it, they're reticent to replace with another show and expend resources if they don't have to," he says. "They want to run the same brand as long as it's working. There's been a lot of talk – particularly over the last year to 18 months – about creating shows that covers new media as if it was a new idea. But the EP format has been accommodating that for years now."
As of mid-June, the show helmed by producer/host Victor Lucas (pictured) has been running for 13 years.
EP Daily airs on Citytv and G4 Canada on home turf, and Raphaelson believes there will be a market for the strip State-side in 2012.
PPI has put a number of Canadian shows on U.S. airwaves, including Da Vinci's Inquest, Cold Squad and Steven and Chris.