Bostick, Sutherland to star in Dead Before Dawn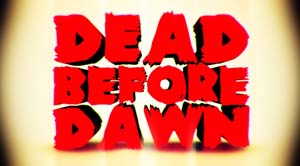 Devon Bostick, Martha MacIsaac and Rossif Sutherland are top-lining Dead Before Dawn from Wango Films.
The adventure comedy, being shot in stereoscopic 3D in Niagara Falls by director April Mullen, also stars Brandon Jay McLaren, Brittany Allen, Kevin McDonald, Ellen Dubin and Kyle Schmid.
Dead Before Dawn portrays college kids accidentally unleashing an evil curse that turns people into zombie demons.
Tim Doiron wrote the script for the indie Canadian pic, and shares a producer credit with Mullen.
Avi Federgreen is executive producing.
Dead Before Dawn is set for a 2012 release.
Related stories: Wango Films enters production on Dead Before Dawn