IPF awards $1.4 million to 15 web series
Executive director Andra Sheffer tells Playback about the selection process and how a new international jury helped keep evaluation fresh.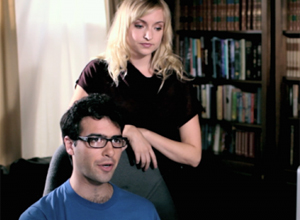 The recipients for this year's round of Independent Production Fund recipients has been revealed, reflecting a "much more sophisticated" pool of applicants over last year, the fund's executive director Andra Sheffer says.
Of the 160 applications, 15 scripted drama web series – nine English and six French — were selected, with an equity investment of $1.4 million, including Bill & Sons Towing from Ready, Set, Panic, Runaway from Leaping Lizards Productions and Verdict from Frantic Films, to name a few.
Five of the funded web series are coming back for a second season: Moderation Town (pictured) from Stitch Media, Ruby Skye P.I. from Story 2.OH, 11 règles from Studio Whimz, Dakodak from Van Der Lol and Juliette en direct from Les Productions Passez Go.
Many of the applications were teen and young male comedies, and Sheffer says that the board selected several of them for funding because the genre seems to predominate the web series business. She adds there's shortage of tween and children's web series in the market, so a few of those were funded as well.
"Clearly, one of our goals was accomplished:  to share the lessons learned and help develop the knowledge base in the web series business," she tells Playback Daily.
Also different this year was using an international jury to evaluate the applications.
"What some considered original and unique, others felt were derivative and stale," she explains. "The moral of that story is that no one is an expert in the world of web drama series, and we are all still experimenting."
Sheffer notes that several applications came from TV prodcos, and that their applications had bigger budgets, production crews and shoot days than those from the new media sector.
"The latter know how to work with low budgets and small crews," she says. "In the end, (we) funded a range of projects from both…and we will see if the TV producers figure it out."
Earlier this month, the IPF released a guide on how to build an audience for web series, which stresses the need for consistent original content and interaction with fan communities.
"I think this will also be a big surprise to TV producers who are experienced with broadcasters launching and promoting their shows as the producers move on to the next project. You can't do that with web series!" she says.
For the full list of funded series, click here.