BlinkWorks Media brings it back to the people
Winnipeg's Lisanne Pajot and James Swirsky have used crowd-sourced funding to raise $35,000 in just over 24 hours to complete Indie Game: The Movie.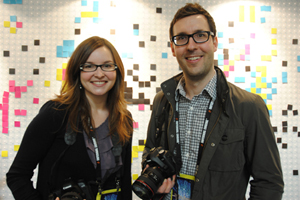 They've done it again.
In just over 24 hours, Lisanne Pajot and James Swirsky of indie prodco BlinkWorks Media have surpassed their $35,000 fundraising goal to finish their feature doc Indie Game: The Movie.
The Winnipeg filmmakers first launched their crowd-sourced funding venture last year through website Kickstarter.com, aiming to raise $15,000 in 30 to 60 days and exceeding their target by $3000 in just 48 hours.
Now in post, Pajot and Swirsky want to take their film about indie video game developers to the next level.
"We want to make sure we finish it properly, which requires services and talents outside of our own," Pajot tells Playback Daily. "So, we wanted to raise money to pay professionals to do the audio, colour and mastering."
The pair never expected the overwhelming response the first time around and hesitated doing it again, for fear of seeming greedy. But it had been more than year, and with their initial pool of money began to dwindle, they reached out again.
"People are excited about the idea of following video game creators, which has never been done before," explains Pajot. The duo have been posting new videos from the film throughout the year in an effort to attract new fans, she adds.
"This campaign gave them a real reason to join in. Also, we've noticed a large percentage of people we have 'preordered' before, buying another copy. People just want to see this made, and want to be part of it somehow."
The "preorder" idea was developed by the duo as a promotional twist – anyone who gives money to the project is essentially pre-purchasing the final product.
BlinkWorks is on track to complete the film by mid-August and is toying with using Kickstarter again when the film is done for marketing purposes.
They're hoping to take IGTM to film festivals this fall, and are planning to show it at special events at cities across North America.
As for distribution, Pajot notes that most of the interested viewers are online and will reach them through that medium. "If you give them an easy and efficient way to get it, they will buy it and tell their friends and share. We hope," she adds.