Larry Weinstein to direct Far To Go screen adaptation
Indie producer House of Films has optioned Alison Pick's novel about the lead-up to the 1939 Nazi invasion of Czechoslovakia for a big screen adaptation.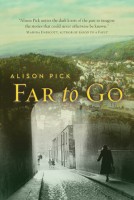 Bill House's House of Films has optioned the Alison Pick novel Far To Go to be developed and produced as a Holocaust-themed Canadian feature film from director Larry Weinstein.
Playwrights Rosa Laborde and Hannah Moscovitch are to adapt the novel for the big screen.
Far To Go interweaves the contemporary life of a narrator and the lives of a group of Czechoslovakian Jews in the lead up to the Nazi Germany's invasion and occupation of Czechoslovakia in 1939.
Rhombus Media's Larry Weinstein will share a producer credit on the movie, which is set to go before the camera in 2012.
House of Films is also developing a screen adaptation of Russell Smith's Girl Crazy.
Larry Weinstein's most recent credits include Inside Hana's Suitcase and Mulroney: The Opera.