Skatoony TV expands online game with second season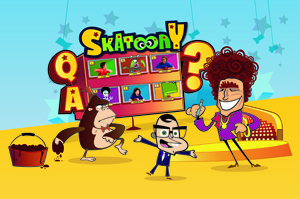 Indie producer marblemedia and Teletoon are at work on a second season of Skatoony, the hybrid live action and animated game show.
But the latest cycle of 26 episodes for the cross-platform kids series includes a multi-player online game on telecom.com, courtesy of the Bell Fund.
Skatoony the TV series, based on the Cartoon Network UK format, sees real life kids compete against one another by answering trivia questions for prizes.
Mark Bishop, executive producer at marblemedia, said an initial multi-player online game, the Skatoony Home Game, drew a big enough following for the Bell Fund to get behind an expanded version for the second season, and two upcoming iPad applications.
Besides the online engagement the Skatoony Home Game brings, Bishop adds the interactive extension serves cross-promotional goals for Teletoon by driving traffic to the teletoon.com site and then back again to Skatoony on air.
This is done by promoting the online game going into or during TV commercial breaks, or through bumper ads on the Skatoony Home Game site that flag the TV show.
The aim is to keep kids watching the TV show or playing the online game for Skatoony Bucks they can exchange for in-game accessories, and all within the Teletoon realm.
"The challenge is to craft a path and experience with messaging to ensure a continuum of TV, online and TV," Bishop explained.
The Skatoony TV series and its interactive game extension were produced with financing from Teletoon, the Canada Media Fund, the Bell Fund and Ontario and federal tax credits.
Skatoony is distributed internationally by Distribution360.