Netflix: Why Cancon producers are in business with us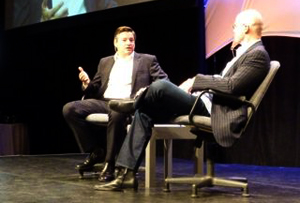 Forget Caesar's Palace. Verbal fisticuffs broke out at this week's Banff World Media Festival over Netflix Canada and so-called over-the-top digital platforms reaching into the Canadian market.
Sure, the final showdown Wednesday between Norm Bolen, head of the Canadian Media Production Association, and Netflix chief content officer Ted Sarandos, the bogeyman for Canadian broadcasters, cable and satellite TV operators, drew no blood.
But it revealed deep industry cleavages as the Canadian producers' top lobbyist repeated a call for Netflix to subsidize Canadian content production while content owners increasingly do licensing deals with the U.S. video streaming giant.
As he took the microphone to ask Sarandos a question during his NextMedia keynote appearance, Bolen, who has branded himself Captain Canuck in Banff for his repeated defenses of cultural sovereignty, knew much of his membership regards Netflix Canada as a source of found money.
He made no mention of Netflix Canada dwarfing, or even obliterating the Canadian broadcast system, as Canadian critics have done at previous festivals or conferences.
Neither did the CMPA boss raise the spectre of U.S. broadband technologies un-tethered to CRTC control unleashing a wall of foreign digital content that could send Canadian content producers to the sidelines.
No, Bolen, knowing that the future is streaming and Netflix is bidding up the price of Cancon, conceded his members are lining up to ink streaming deals for their catalog content.
Canadian producers "do recognize there's an opportunity," he told a hushed Van Horne Ballroom in the Banff Springs hotel.
So all there was left to do was ask Sarandos why over-the-top services like Netflix Canada shouldn't be compelled to fund original Canadian content.
"It's clear that online broadcasters like Netflix… play in the same arena as regulated Canadian players. They compete with those players for programming and customers, they will earn hundreds of millions of dollars annually in this country running their businesses," Bolen told Sarandos.
"Why shouldn't over-the-top services like Netflix be mandated to make a contribution to the creation of original Canadian content?" he added.
The Netflix exec didn't waste much breath with his well-rehearsed reply.
"We make a meaningful contribution by licensing Canadian content," Sarandos answered crisply.
And he reminded Bolen, a former broadcaster himself, that Canadians are not regulated by the CRTC when they operate over-the-top like Netflix Canada.
Minutes later during a media scrum, Sarandos was sniffy about the CRTC getting its mitts on Netflix Canada.
"Regulating the Internet has not been very politically popular anywhere in the world, and it doesn't work very well, except for maybe China and North Korea," he said.
And he poured water yet again on the prospect of Netflix Canada subsidizing Canadian content production.
"I'm not involved in the creation of content at all, so I don't know why we would uniquely create Canadian content," Sarandos said.
The Netflix exec even flattered Canadian producers by insisting they were doing a good job on their own.
"There's great Canadian content producers creating great content. And we're licensing it at very high prices. That's the best way we can contribute to the Canadian content fund," Sarandos argued.