"It's time to retire the phrase watercooler shows," says Showtime's Levine
Four US panelists discuss what they're looking for in new programming at the Banff World Media Festival.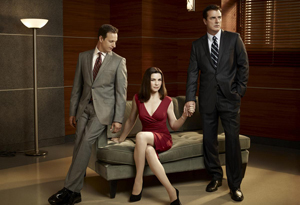 It was standing room only at the Banff World Media Festival Monday as four US broadcast execs discussed the vision for their channels' programming strategies and what they are looking for next.
Showtime's Gary Levine, EVP of original programming, Joel Stillerman, SVP, original programming, AMC, Christina Davis, SVP, drama, CBS and Kathleen McCaffrey, manager, HBO all took to the stage at the daily broadcaster briefing session to share what major American networks are looking for in their slates. ABC's Quinn Taylor, SVP, movies, miniseries and acquisitions, ABC also joined via Skype.
Showtime's Levine started by discussing his company's history of producing original programming, noting that provocative concepts sit at the core of the channel's mandate, noting that Dexter – a show about a charming serial killer – and Weeds – about a pot-dealing suburban mom –were the first shows that really broke for the network, and reflect the types of concepts it still seeks.
When asked how the programming helps reach Showtime's target demo, Levine said the channel simply doesn't have one.
"I don't know my audience and it doesn't matter," he said. "It matters that people hear about shows on Showtime and want to subscribe. We are in a uniquely freeing and wonderful sandbox. I think it's time to retire the phrase watercooler shows. We want to get shows that get people talking, but…we never want to pander to ratings, or go down the middle appeal to a broad base."
AMC's Stillerman, on the other hand, discussed AMC's approach to series development, stating that the network is "looking to capitalize on what's going on on our channel" and that – somewhat surprisingly – the channel has a male-skewing target demo, 25 to 54.
"The majority of our movie programming is male-driven," he said, noting that one of the new show concepts the channel was somewhat unexpected. "We fell in love with car racing, and no one's really tapped that world yet. It's another example of something that lines up well with our mandate."
Over on CBS, the focus is more narrow, Davis said. Citing strong network franchises such as long-running CSI and newer successes such as The Good Wife (pictured)  and The Mentalist, she said that CBS looks for stories that can go for the long haul.
"We do like our cases because it drives story, and when you do 22 to 25 eps a year you need to have that," she says. "But we do like close-ended programming as well. It's hard for us to do serialized shows like ABC does, we're not able to sustain that kind of programming for whatever reason."
However she noted, CBS does have mass on its side, a bonus for independent producers.
"We develop 60 projects a year, so we're able to develop a broad slate. But a strong franchise leading with character is our mission."
At HBO, an original point of view attracts the eyes of the channel's programmers, McCaffrey says.
"We stay true to finding writers and producers with very strong points of view," she says.
"We've skewed masculine of late, but we have our eye on more female programming.That's where we're at currently. On the drama side going forward, because we have these large series [e.g. Boardwalk Empire] we're looking for something quieter. Our next round of pickups will be smaller – sticking to that centre, something with family at the centre, that's character driven, and maybe something less gooey than True Blood," she joked.