Canadian kids and youth series shine at Banff Fiction Rockies
Amid the usual rivalry at the Banff Rockies between American and British TV shows, Canadian kids and teen TV shows walked away with trophies.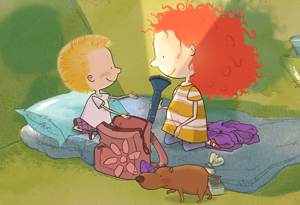 Canadian TV producers managed a few trophies of their own as the Banff World Media Festival's Fiction Rockies ceremony Sunday night turned into a traditional American-British shoot-out.
The night saw the best continuing series trophy go to BBC Wales' Sherlock: A Study in Pink, while the best mini-series Rockie went to the much-lauded Downton Abbey for ITV.
The Americans made their usual Rockies showing by taking the best soap opera trophy for Univision's Eva Luna, the best sitcom Rockie for Showtime's The Big C, and the 2010 MTV Video Music Awards from MTV getting the nod for top music show.
Canadians flew the flag with Radical Sheep Productions' Stella and Sam (pictured) for Family Channel winning the best kids fiction program, while the best youth program went to Anash and the Legacy of the Sun-Rock, from Panacea Entertainment and The Thing With Feathers Productions for APTN, ACCESS and SCN.
The honour for the best comedy program went to the first season of lol

, produced by Quebecomm for TVA.