It's not always a Picnicface getting on Comedy
As the show enters production, Comedy Network's Sarah Fowlie talks about how the comedy troupe won her over.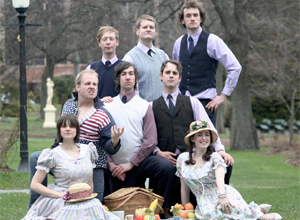 After being in development for four years, sketch comedy show Picnicface for The Comedy Network is heading into production in Halifax.
The Nova Scotia-based sketch troupe won over Comedy's manager of original programming Sarah Fowlie for being as motivated as they are funny, both in live performance as well as generating original online content that was amassing millions of views.
"They were at forefront of digital comedy, comedy on the web and they had a real audience," Fowlie tells Playback Daily of selecting Picnicface for pickup. "We could tell it was a real body of work. For a sketch group to be doing that type of production and writing on top of a regular live show, it was obvious to us that there was more going on here than 'these kids are making funny videos.'"
In Picnicface's favor was that Comedy was looking for a sketch-based show, but was being selective, knowing translating live entertainment to the small screen is a challenge. Another challenge was building on the local fan base that the troupe had cultivated, and turning that into a devoted TV audience.
Picnicface the troupe came to the table with Breakthrough Entertainment on board, as well as executive producer Garry Campbell (Kids In The Hall, MadTV). Picnicface will make its TV debut this fall.
"This show represents the best thing that can come out of a long term development," says Fowlie, who is also a production executive on the series. "You really have a chance to work out a lot of kinks and learn to trust each other."
The channel is always open to pitches, Fowlie says, and looks for scripted and strong ensemble pieces that appeal to a wide demo.
Taking stock of what is currently on-air is a good idea, she says, and don't assume the edgier the better.
"Don't think we're always looking for edgy, envelope-pushing content. Sure, we look for it, but that's not hard to find."
Fowlie adds that Comedy is also looking for shows that work in the first hours of prime time . "With specialties, filling the 10 p.m spot isn't hard, but 6 to 8 p.m. is hard! So we're looking for Canadian stuff that works in the earlier part of prime," she says.