Playback magazine's The Future of TV issue now out
Playback has both a new issue and a new editor on board. Click here to find out more.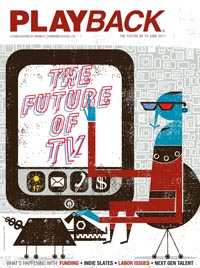 As the Banff World Media Festival sets to kick off June 12, Playback is gearing up for the big event with a new issue of our quarterly print magazine. Dubbed "The Future of TV," the issue covers some of the most significant topics facing our industry today: the changing face of funding, the accelerating pace of technological change, future talent, and policy reforms sought by industry unions and guilds. The issue also includes the 2011 Playback Indie List, an annual roundup of investment in production and development by Canadian independent production companies.
Access the Flash version of the issue here. For a PDF version of the issue, click here.
In tandem with the new issue, Playback would also like to announce the naming of Katie Bailey as the publication's new editor. Bailey arrives at Playback from her role as managing editor of Playback's sister website, MediainCanada.com, a daily news website for the media buying and marketing community. Bailey will helm the print and online editions of Playback, as well as provide strategic assistance to Playback events such as the Film and TV Hall of Fame and brand new Atomic Awards.
The Playback events schedule is an exciting one this year. The Atomic Awards are a joint initiative between Playback and strategy magazine, designed to celebrate the partnerships, programs and new developments that together build the Canadian media industry. For more information on the awards, which will be held this fall, click here. As well, we have exciting news about the Hall of Fame, which has a new partner in the CBC this year. Slated to be held during TIFF on Sept. 15, the Hall of Fame will be held in downtown Toronto at the CBC's Glenn Gould Theatre.
We look forward to hearing your thoughts on our latest issue – feel free to comment below, or contact us directly.