Smokebomb launches Murdoch web series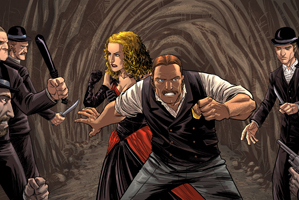 The season four premiere episode of Murdoch Mysteries hitting Citytv airwaves Tuesday night, but that's not all Shaftesbury has up its sleeve for the series.
Viewers will see on-air promos during the broadcast, encouraging them to head over to the Citytv.com video player, where they'll be greeted by an exclusive 13-ep original online series, Murdoch Mysteries: The Curse of the Lost Pharaohs.
Produced by Shaftesbury's interactive arm Smokebomb Entertainment, the live-action/animation Pharaohs was designed to give Murdoch a greater online presence, as requested by Murdoch broadcaster, Rogers Media, Smokebomb partner and executive producer Daniel Dales says.
Pharaohs sees the sidekick character Constable George Crabtree's writing his first novel (which has the same title as the online series), an element that's also woven into the season four story.
As Dales recounts, Murdoch showrunner Cal Coons, writer Patrick Tarr and the series writing team developed the outline of the transmedia storyline from early days in the writing room.
"It was huge in scope, so we were in with them right from the beginning, working with the production company from the outset," Dales tells Playback Daily.
To achieve consistency across the projects, Smokebomb worked with the same series cast and crew from the Murdoch series, and was also directed by Coons.
But they were presented with a creative challenge: wanting to push production values for the web series, but having a limited budget.
The solution? Creating a motion comic/animation style to blend with the live-action short eps, which allowed them to include elaborate scenes, such as an exploding ship, without actually blowing anything up. To do that, Smokebomb brought on Toronto-based DC Comics illustrator Francis Manapul as the art director, currently the artist on The Flash and has also worked on Superman and Batman comics.
The eps run between three to five minutes and will revolve around a new chapter of Crabtree's novel each week.
And what's a transmedia project without a social media strategy? "We're pushing the content out to the blogger space and comic community in Canada," says Dales, who believes comic fans will follow Manapul's work outside the DC space.
"We're more excited about audience response than anything," he adds. "It's great if you can make digital toys, but if you can draw an audience, you've done your job."
Pharaohs received support from the Bell Broadcast and New Media Fund, as well as from the Canada Media Fund's convergent stream.