The 2011 Playback Indie Production List
Complementary to our latest print issue, the full company listings for each category of our annual report.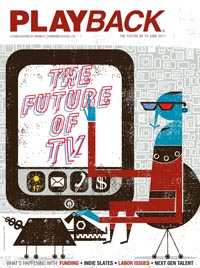 Playback's 2011 Indie Production List
Every year, Playback compiles the annual investments Canada's independent production companies make in producing and developing new TV programming and feature films. The totals are submitted to Playback by the companies themselves, via an online survey. Where totals were not available, or companies chose not to participate, we sought to estimate the total value of the company's investment in production and development via publicly available sources, such as quarterly financial reports. 
Our Future of TV issue, available now, includes the top 10 companies in each category, and below, you will find the full listings.

By category:
By genre
See our 2010 Indie List here.