Wapos Bay lives on in digital world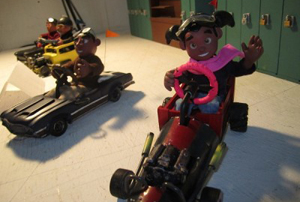 Wapos Bay the series may be coming to an end on the small screen this fall, but the Saskatchewan team behind the children's stop-motion animated series has plans for the franchise to live on in the digital media world.
Producers Dennis and Melanie Jackson, and Anand Ramayya recently wrapped production on the final episode, which will air as a feature-length MOW on APTN called Long Goodbyes.
Marrying the traditional art of stop-motion animation with the new interactive side was no easy task, but the team was intent on keeping the same look of the series across the board.
According to Hulomedia transmedia producer Ryan Lockwood, WaposBay.com is a "very close translation" of the series that plays on the exploration and adventure themes that have drawn kids to the series for the last five seasons on APTN. (The site received CMF funding.)
WaposBay.com launched last fall, and this coming fall, the interactive offering is Wapos Racerz! (pictured), a Mario Kart-esque style casual racing game from Toronto independent game company Phantom Compass.
"It was a challenge to do the game in stop-motion," show creator Dennis Jackson tells Playback Daily, echoing Lockwood's thoughts on keeping the stop-motion look consistent across Wapos products. "It would probably be easier to do it in Flash, but we were adamant to have it look like the show."
Lockwood worked with fellow Hulo producer Brooke Burgess on the game as well, noting that animators on the MOW also contributed to the creation of Racerz!
Digital extensions of the brand slated for this fall include an interactive storybook series for mobile and tablet platforms that allows readers to flip between Cree, French and Inuktitut languages, as well as linking to videos on its YouTube channel. On top of that, Wapos Bay episodes will soon be available for downloading on iTunes, streaming rentals and for sale on DVD on Amazon.com, IndieFlix and Nexflix.
On tap next for Hulo and WBP is another stop-motion sci-fi project called Guardians, a project which Melanie Jackson says is already locked into coproduction deals with Australia and New Zealand.