CTV adds X Factor, Charlie's Angels for fall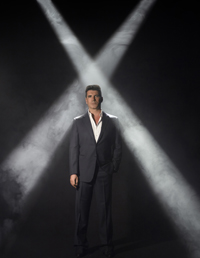 Bell Media's first fall season of programming at CTV includes nine new shows and 15 returning hits.
New on Tuesday nights at 10 p.m. is Unforgettable, the CBS cop drama about a woman who remembers everything.
Wednesdays at 8 p.m. is Simon Cowell's much buzzed-about talent show, The X Factor, from Fox. The new show is followed by returning comedy Hot in Cleveland at 9:30 p.m., and CSI in its new spot at 10 p.m.
Thursday kicks off with the new incarnation of Charlie's Angels at 7 p.m., with NBC's new comedy about modern love, Whitney, at 8:30 p.m. The Big Bang Theory returns in its spot at 9 p.m.
Friday nights are lead with the new supernatural series, Grimm, about a cop who can see fairytale creatures breaking laws, at 8 p.m.
Saturdays mark a new female focused programming strategy for the network, with two-hour competition series The Sing Off at 8 p.m, followed by Crimetime at 10 p.m.
The family-focused Once Upon A Time, about a fairytale set in modern times, leads CTV's Sunday night schedule at 7 p.m., with The Amazing Race returning at 8 p.m. and Desperate Housewives at 10 p.m.
Also returning to the network are The Mentalist, Dancing with the Stars, Castle and CSI: New York.
CTV is adding CBS's Anderson Cooper-hosted daytime talk show, Anderson weekday afternoons at 5 p.m., following the Dr. Oz Show, which fills the gap left by Oprah, at 4 p.m. Anderson will also air at 3 p.m. on the recently rebranded CTV Two.
Also joining CTV daytime is The Ellen DeGeneres Show, weekdays at 2 p.m. on CTV, and 4 p.m. on CTV Two.
Joining the CTV schedule mid-season is the Steven Spielberg-produced musical drama Smash, about the heartbreak and joy of Broadway theatre; G.C.B., about a social queen who returns to her Texas hometown after her personal life falls apart; and Missing, a drama starring Ashley Judd about a mother's search for her missing son.
CTV Two is also adding five new shows to its prime-time lineup, starting with ABC's Man Up about three modern guys who are forced to face reality on Tuesdays at 8:30 p.m., followed by The Protector, about a LAPD police officer and single mother at 9 p.m.
New on Wednesday is NBC's Up All Night, a comedy starring Will Arnett and Christina Applegate as new parents at 8 p.m. and the Hank Azaria-starring workplace comedy Free Agents at 8:30 p.m.
The results show of The X-Factor airs on CTV Two on Thursdays at 8 p.m.
CTV hosts its upfront presentation Thursday afternoon.