CTV greenlights new seasons for popular Canadian dramas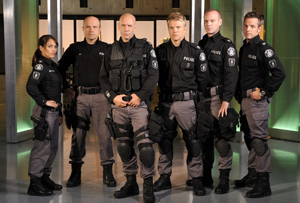 Those CTV takeover dollars from Bell Media are starting to flow.
A day before CTV unwraps its latest US series purchases to Canadian advertisers during its upfront presentation, the broadcaster said it is sorting through proposals from indie producers for new Canadian series as it green-lit new episodes of existing shows.
CTV said it put in an order for the fifth season of Flashpoint (pictured), or 18 new hours.
And The Listener will go to a third season with 13 new episodes greenlit, while The Borgias, which aired on Bravo!, received a second season order for 10 more episodes.
Also in the CTV pipeline is the Paul Gross-starring TV movie The Horses of McBride, which follows a father and daughter rekindling their relationship as they save two horses trapped on a snowy mountainside.
The telefilm was written and directed by Anne Wheeler, with production to start in early 2012.
CTV also indicated production has started on the TV pilots for Saving Hope, which stars Erica Durance in a medical drama set in Toronto.
Ilana Frank (Rookie Blue) is producing the pilot, based on a script by Morwyn Brebner (Rookie Blue).
And production has also started on another CTV pilot, Stay With Me, from veteran TV writers Suzette Couture and Pierre Sarrazin.
The drama is about an at-home mother turned lawyer who uses her wit and maternal intuition to secure justice for her clients.