Tascan launches new transmedia co
The gaming guru is looking to access the growing social gaming market with new venture, Sava Transmedia.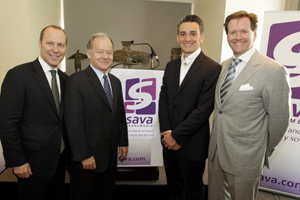 Pictured: Alain Tascan, president and CEO of Sava Transmedia; Francois de Gaspé Beaubien, chief officer, Sava Transmedia; Raymond Bachand, Minister of Finance, Minister of Revenue and Minister responsible for the Montreal region; Michel Leblanc, president of the Montreal Board of Trade
With the global social games market on track to reach $20 billion by 2015, Alain Tascan is pouncing on growth opportunities and the chance to beef up locally brewed talent by launching new gameco and publisher Sava Transmedia in Montreal.
As the founder of EA Montreal and co-founder of Ubisoft Montreal, Tascan is no stranger to being at the forefront of large undertakings in the games industry. Though such game publishers are known for their console titles, the new CEO and president is now looking to take advantage of the global social games market, currently sitting at an estimated $9 billion.
And with 1.6 billion social network account, plus 150 million games for Apple devices and 20 million Android devices, he knows there's a greater opportunity for product beyond the 300 million gaming consoles.
"Ninety percent of big game companies in Canada are from other countries (France, Japan, etc.) not many of them are focusing on social games," he tells Playback Daily. "So locally it makes sense because the competition is not there for the moment. This was an opportunity to create something more with local and Canadian backing."
Sava was launched with support from private investors, venture capital and provincial funding. It is filling 50 jobs to start, with a goal toward expanding to 200 over the next five years. The first game is set to launch in mid to late 2010.
Tascan is looking toward the popular freemium and free-to-play revenue models, which still gives players an entertainment experience, but also entices them to pay for more content.  The games will all be available for a variety of platforms including Facebook, iOS, Android and Windows Mobile.
"The market is moving all the time, but we need to make games that are free first and find ways to monetize it," he explains. "People are changing the way they consume music, they're changing the way they consume movies – I feel it's the same with games."
While Sava ramps up its team to work on its first original IP, Tascan will be looking to form partnerships to license other game IPs, admitting that starting off with only original IP would be too ambitious. "We're looking for licenses that make sense in the social world."
Tascan is targeting younger talent pools for hire, particularly recent grads who live in the multi-platform universe, and blending them with industry vets on the publishing, distribution and development side.
Those sensibilities are critical to achieving Sava's mandate  of reaching people everywhere they access their mobile screens.
"This is an ambitious vision," admits Tascan. "This is our opportunity to say, 'we're gonna try to be in the middle of the screens.' As a consumer, I go from my iPhone to my PlayBook to TV to PC at work, I would love my game experience to follow me in the same way."