AMPIA hands out Rosies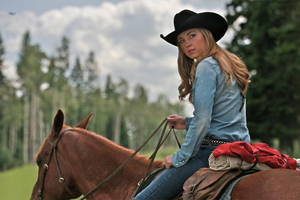 Both Seven24 Films and Clearwater Documentary were the big winners on Saturday night, taking home the most trophies at the 37th annual Alberta Film and Television Awards in Edmonton.
Calgary's Seven24 snagged six Rosies for Heartland (pictured), including best dramatic series (producers Tom Cox and Jordy Randall), best director drama over 30 (Francis Damberger, "Lost Song"), best Alberta actor (Shaun Johnston, "Lost Song"), best editor drama over 30 (Ken Filewych, "Homecoming"), best cinematographer drama over 30 (Craig Wrobleski, "One Day") and best overall sound drama (Ron Osiowy and Geo Major, "A Heartland Christmas").
Clearwater tied for the same number of awards. Code Breakers won best documentary over 30 (Niobe Thompson, producer), best cinematographer non-fiction over 30 (Daron Donahue) and best overall sound non-fiction (Perry Blackman and Brett Ardiel).
Tipping Point garnered the prodco another trio of Rosies, with Niobe Thompson and Tom Radford winning for best director and best screenwriter non-fiction over 30, and Brenda Terning rounding out the honours for best editor non-fiction over 30.
Prairie Dog Film + Television's Blackstone saw two awards for its "Suffer The Children" episode, for best production reflecting cultural diversity (producers Ron E. Scott and Jesse Szymanski) and best screenwriter drama over 30 for Scott. The ep "White Bread Red Class" earned Roseanne Supernault the trophy for best Alberta actress.
Crowsnest Films collected its own trio of Rosies for Gord Bamford: My Daughter's Father, winning best music video from producer John Kerr who also won for best director drama under 30. Jeff August also took home the award for best editor drama under 30 for the vid.
For the full list of winners, head over to www.ampia.org.
The Rosies are hosted by the Alberta Media Production Industries Association (AMPIA).