Ivanova takes $15,000 feature prize at Hot Docs closer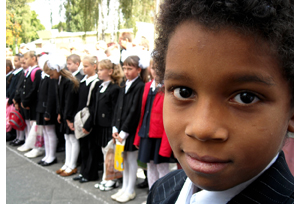 Julia Ivanova's Family Portrait in Black and White, about a Ukrainian super-mom raising 16 orphans, took the top Canadian feature prize at the 2011 Hot Docs Canadian International Documentary Festival, which wrapped on the weekend.
And the best international feature prize went to Tristan Patterson's Dragonslayer, about a California skate-punk who rides empty pools and road-trips to stretch out his childhood.
In all, nine trophies and $72,000 were handed out Friday night at the Windsor Arms Hotel in Toronto, with Ivanova coming away with $15,000.
The Hot Docs Canadian features jury cited Family Portrait for "an intimate, poetic film that bravely confronts nuance and complexity in its characters and its world."
The jury also gave special Canadian feature prizes to Isabelle Lavigne and Stephane Thibault's At Night, They Dance and Thomas Selim Wallner's The Guantanamo Trap.
On the international documentary feature front, Dragonslayer, which bowed at SXSW, earned a $10,000 prize for director Patterson.
The international feature jury also gave a special prize to Massimo D'Anolfi's The Castle, about border security at Milan's Malpensa Airport.
Other winners included the best mid-length documentary trophy going to Eline Flipse's Our Newspaper, a portrait of a journalist who quits The Leninist and starts a new newspaper in a small Russian village.
And the best short documentary prize was picked up by Catherine van Campen for Flying Anne, about a girl with Tourette's looking for love and acceptance.
Elsewhere, filmmaker Michal Marczak earned the HBO documentary emerging artist award for his film At The Edge of Russia, set in the Arctic, while the Lindalee Tracey award this year went to Quebec documentary filmmaker Alexandre Hamel.
Specialty Hot Doc tribute winners included Terence Macartney-Filgate receiving the 2011 Hot Docs Outstanding Achievement Award, and the Don Haig Award going to Toronto-based writer and director Rama Rau, which includes a $20,000 cash prize.