KinoSmith picks up four docs at Hot Docs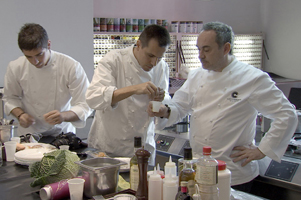 Indie distributor KinoSmith has pre-bought Canadian filmmaker Amy Miller's The Carbon Rush, a documentary still in development about the impact of global carbon markets on climate change.
The film from Montreal-based indie producer Wide Open Exposure follows Miller's earlier documentary Myths For Profit.
KinoSmith also Thursday unveiled three other documentary acquisitions at Hot Docs, including picking up Werner Herzog's Cave of Forgotten Dreams, which bowed at the 2010 Toronto International Film Festival. The 3D film will be launched at TIFF's Bell Lightbox in July 2011.
Robin Smith's distribution outfit also acquired the Canadian rights to Gereon Wetzel's El Bulli: Cooking in Progress (pictured), which is screening this week at Hot Docs.
KinoSmith anticipates a fall 2011 theatrical release for El Bulli, about celebrated Spanish chef Ferran Adria, who each year closes his restaurant for six  months to conjure up new delicacies in his Barcelona cooking lab.
KinoSmith also snagged the Canadian rights to Aaron Shock's Circo, a Mexican road trip film about the travelling Ponce Family Circus.
Circo is set to hit Canadian theatres in summer 2011.
As the Canadian indie sector continues to contract, KinoSmith and boutique players like Ron Mann's Films We Like have increasingly picked up the bulk of Canadian and foreign documentaries unspooling on domestic screens.
"Documentaries are our core business and of vital importance to the marketplace, so being involved in these projects will help solidify KinoSmith's position as one of the best documentary distributors in Canada," KinoSmith founder and president Robin Smith, said.